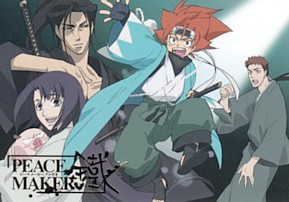 Peace Maker Kurogane first started as a manga by Kurono Nanae back in September 1999 serialized in GanGan comics published by Enix. The tankoubons were composed of six volumes and named "Peace Maker" aka "Shinsengumi Imon Peace Maker". It was popular enough to warrant a sequel called "Peace Maker Kurogane" published by Mag Garden, currently at five volumes and an anime that was first aired in Japan in 2003. In 2004 ADV was able to procure the rights to the manga rights from Mag Garden and then the anime which brought the show to many fans on our side of the globe. Thank goodness! Unfortunately, the series is not yet done and there is no news yet if Kurono will release another volume. Volume 5 was released March last year and some reprints were done a few months ago. Personally, I hope Kurono Nanae finishes this series as it's not only one of her more popular works but also since PMK focuses on the Shinsengumi themselves and not as an "after the fact", "cameo" or a "based-on" role.
---
Summary / Thoughts
Peace Maker Kurogane is set at the time of the Bakumatsu similar to Rurouni Kenshin. You'll have to forgive me if I decide to compare the two but the most popular introduction we have to the Shinsengumi (at least for English speaking audiences) came from Rurouni Kenshin. Unlike Rurouni Kenshin which used both historical personages, characters based partly from historical people and some completely fictional based characters, Kurono Nanae decides to take from historical fact almost all her characters and many events. So instead for example of seeing a character based on Hijikata (aka Aoshi), we have Hijikata himself. If you've done some reading in this website, most probably you'll already know that Hijikata was the Vice-Commander of the Shinsengumi, a Police troop in Kyoto purported to be the fiercest group of men advocating for order in the city at the time. This is the group, our lead character, Ichimura Tetsunosuke wants to join.
A little background on Ichimura Tetsunosuke… Our protagonist is a small young man who is not very powerful nor well skilled in the use of the sword. Because of this weakness, he blames himself for the misfortune that fell on his parents, thus his main goal at the start of the story is to become strong to avenge his parents. This causes a lot of worry especially to his brother Tatsunosuke, who just happens to join the Shinsengumi to get paid as an accountant. Ichimura becomes Hijikata's page and a favorite young recruit of the other members. He is especially close to Okita and Susumu. Through the events that unfold, he finally finds out the truth behind his parents murderer and finds his true strength and purpose. Although the anime is markedly light compared to the manga, both does a beautiful job in showing us the faces behind the rather bloody events that unfold.
---
Mangaka Profile
Kurono Nanae does a wonderful job in developing Tetsunosuke as a lovable and mature character. Her handling of the other Shinsengumi members are a joy as she makes them characters we will remember and love. Indeed one of the reasons I believe the Shinsengumi are well loved is because Kurono and others like her, depict them with personalities and aspirations that we all would like in ourselves.
Mangaka: Kurono Nanae also known as Chrono Nanae
Birthday: June 18, 1980
Blood type: A
Manga work: Shinsengumi Imon Peacemaker vol. 1-6 (Complete)
Peacemaker Kurogane) vol. 1-5 (unfinished)
New series: Vassalord http://www.animaxis.com/en/shop/product.asp?sku=138976%2D00
Doujinshi: Some Naruto