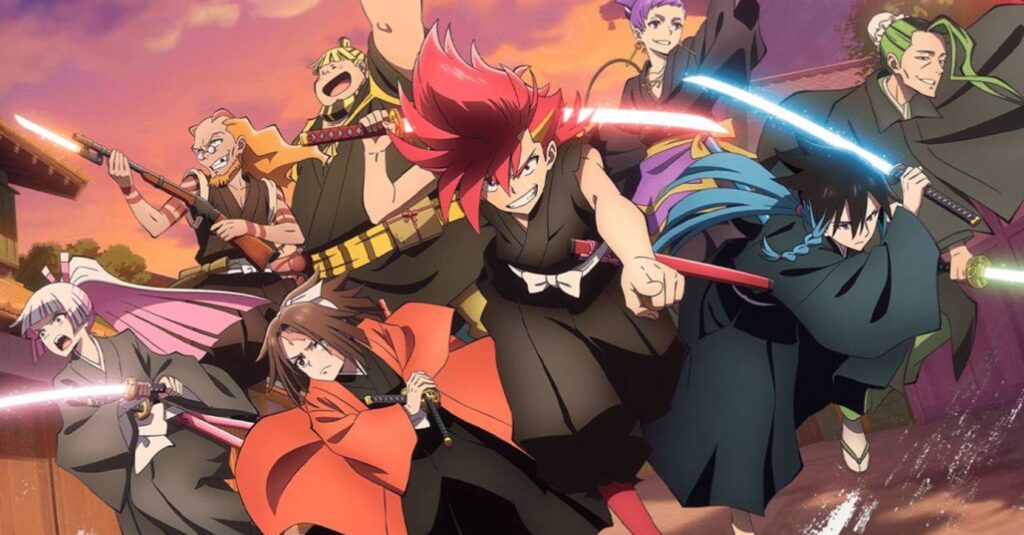 I've been looking forward to this anime designed by Hiroyuki Takei! One thing we can always count on the Shinsengumi is that there'll always be new material coming out whether it's manga, live action or anime! Bucchigire is a fun feast for the eyes and I highly recommend watching it.
Crunchyroll published the 3rd episode yesterday July 21 but they've been streaming it since July 8. Watch it here. The first two episode are now free to watch with ads and but if you're a premium member like me, you can watch episode 3 without ads. No this isn't an ad plug for Crunchyroll but I do appreciate the streaming service for choosing to license and stream this show online.
What do I think of it so far? It's got my attention. The show is a feast for the eyes and the senses with it's colorful palette and what seems to be a story book filter applied. While I think the basic premise is interesting. The first two episodes gives us some background on Kondou and Hijikata's substitute. Kondou is Ichibanboshi, while Hijikata is an assassin called Sakuya. But we also get a healthy dose of the others too like Okita as Akira, Saitou as Suzuran, Yamanami as Sougen, Harada as Bou, Nagakura as Gyatarou and finally Todou Heisuke as himself who is the only surviving member left of the Shinsengumi. Due to the premise, I can't wait to see more because I think it opens it up to a lot of creativity down the road. It's a perfect watch for a lazy Saturday.